Are you heading to Québec?
Would you like to have a Taxi Coop waiting
for you on your arrival?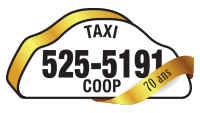 Here is what to do!
Download the Taxi Coop app for Iphone ou Taxi Coop app for Android and create an account.
Five minutes before arriving to the Québec coach Terminal, order your taxi by entering the starting point 320 Rue Abraham Martin, Québec, Enter your destination and click on Order.
Your Taxi Coop will be waiting for you inside the terminal, next to your coach!